Hi all,
I'm trying to decide on how to lay out my shower valves so that it looks best and functions well. I am aiming for symmetry and minimal bends in the lines. It is a fairly simple setup:
(1) Thermostatic valve
(2) volume control valves: one for shower head, one for hand shower
(1) wall supply elbow for hand shower
(1) shower bar
I have sketched a proposed layout below. The thermostatic valve and the shower head volume valve are centered with the shower head so that the correct volume valve is hopefully intuitive. I also tried to achieve some symmetry and intuitiveness by lining up the hand shower and wall supply elbow on the right side with the hand shower hose looping underneath everything and connecting to the shower bar on the left side. I also hope that this will prevent the hand shower hose from becoming bunched up as usually happens when the supply elbow and and shower are installed in-line of each other.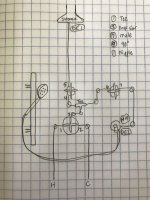 I have a few questions:
1. Any opinions on this layout from an aesthetic point of view?
2. I believe that the tee after the thermostatic valve needs to be oriented so that the supply goes into the "bottom" of the tee as pictured, otherwise the flow to the two different shower heads will not be equal if they are both on at the same time. Is this correct? If this is unnecessary, I could avoid several 90-degree bends if the tee were oriented so that the supply went straight through to the shower head volume valve and the hand shower were fed with the perpendicular outlet of the tee.
3. Currently the shower stall, which is framed 32" wide, has a stud right in the middle where the thermostatic valve should go. I assume since this is not a load-bearing wall that I can and should remove the center stud and put in two new studs about 8" from each side (creating a stud bay that is 16" in the center of the wall). This would allow me to center the thermostatic valve and shower head volume valve to be in-line with the shower head. Is this what you would all do? Here is a photo, in case it helps: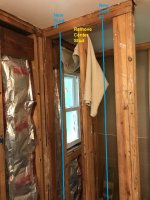 Thanks for reading!