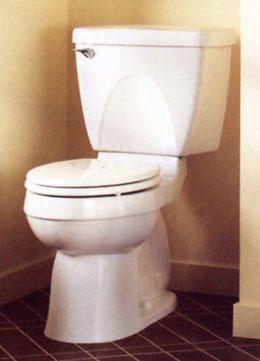 Champion right height elongated

» Vitreous china
» 305mm (12") rough toilet complete, less seat
» Low-consumption (6.0 Lpf/1.6 gpf)
» Elongated siphon action jetted bowl
» 16-1/2" rim height for accessible applications
» 3" non-adjustable, flapper-free flush valve
» Fully-glazed 2-3/8" trapway
» Nominal Dimensions:
» 781 x 495 x 749mm
(29-3/8" x 19-1/2" x 34")
29-3/8" long for the elongated bowl
27-3/8" long for the regular bowl
List Price: $408-525, based on color

So far I have noticed that the Champion is better than their previous models. The Champion uses a 3" flush valve, an upgrade from the previous 2" and similar to what Toto has been using for years. The trapway, also more like the Toto than previous designs has long sweeping bends. It's a bit on the long side as toilets go, and heavy.

A deep socket is needed to attach the tank to the bowl. Forget about using pliers to assemble it like most toilets. Better than previous American Standard models.

Early models of these toilets may have a leaking flush valve or one that drops too soon. Either one will cause a weak flush. American Standard has been sending replacement tanks for customers that ask.

See owner's comments about this toilet here.
Colors: