80-year-old mom makes own waves, thank you
Sherry Grindeland
Times staff columnist
Thursday August 21, 1997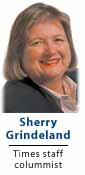 Terry Love of Redmond and Jamie Love of Virginia didn't want their mother to swim alone. So the two sons rounded up other family members, and On Monday morning eight swimmers accompanied Pamela Love of Bellevue as she swam from Chesterfield Beach in the Enaitai area to Luther Burbank Park on Mercer Island.
This was Pamela Love's personal celebration. She turned 80 in March.
"We started at 6:30 a.m.," says Terry. "The trick with swimming that mile across the lake is to get done before the boats start making waves." His mom probably wouldn't have had trouble with boat wakes. She frequently goes to the Washington coast to body surf, says Terry.
"She doesn't swim every day,. but she's got more endurance ~ than I do," he says. "We'll body surf for a long time, get out to rest, and then she goes back in while I'm still recovering from the cold."
Longtime Eastside residents might recognize Pamela Love's name. Her late husband, Melvin Love, helped create the city of Bellevue and was its first full term mayor. He also was a local judge.
Why swim from the Enatai area to Mercer Island?
"She did this when she was 75 and just wanted to do it again;" Terry says. "Now she's talking about walking up Mount Pilchuck.
"I guess we'll be going there this fall."
ACTIVE OCTOGENARIAN:
Patti Payne
Eastside Journal columnist
Sunday, August 24, 1997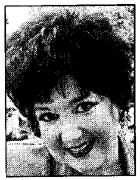 ACTIVE OCTOGENARIAN: What do you do to celebrate your 80th birthday? If you're Pamela Love, you don your bathing suit and swim. Not just any swim. Love recently swam a mile from Chesterfield Beach over to Luther Burbank Park. "I did it five years ago," says this energetic woman, "and I kept wanting to do it again. Before, the lake was like glass. This time there was a wind whipping it up. I kept wondering,'I hope I can still do it.'" She did it. Her 45-yearold son, Terry Love, says, "Mom used to swim in the Straits as a child. And she's always out there body surfing in the ocean. Not long ago, in Hawaii, the waves were 8 feet tall, and they kept slamming her down. Two women made it past the breakers. My mother was not happy that she didn't make it out beyond those waves. We go swimming 45 minutes with her, and we come in, worn out. She'll stay out another 45 minutes," he says, with wonder.
Mrs. Love is none too happy about the city of Bellevue banning diving at the beaches. "I was very upset," she says. "Sure, the city had a problem, but they need to get over that and move on. Kids like to be daring and achieve something physical. They don't have that opportunity at our Bellevue beaches."
Of her most recent swim, Mrs. Love says this: "It was so much fun. I never felt so exhilarated. It was a real high. There's a feeling when you get out in the middle of the lake. You roll over on your back and look up at the clouds. There's such freedom about it." Speak of daring!