Privacy Policy Overview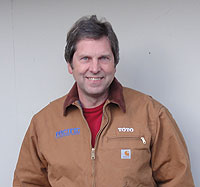 This web site is pretty low tech. We give out information on plumbing and remodel. It's not my intention to collect customer information. I do collect informtion when an order is placed. You do want me to know where to send it, right?
Love Plumbing & Remodel is strongly committed to protecting the privacy of all its customers. We have written this privacy policy to inform you of the information collection and use policies of the Love Plumbing & Remodel web site, such as the specific information that we collect from you, how we use this information, and what options you have in sharing this information with us when you visit our site. Protecting your privacy is a significant part of Love Plumbing & Remodel's commitment to providing you with a high quality shopping experience.
Privacy Policy

We collect personally identifiable information only when an order is placed on-line with your permission. You maintain control over the information we record. We do not sell customer lists to anyone. The order data is stored in a location designed specifically to ensure that there is no access to either the server or its data contents by unauthorized individuals.

Our website contains links to other websites, but it is not responsible for the privacy practices or content of such websites.

Questions regarding our privacy policies, please direct your email to: lovesplumbing@comcast.net
The only place this site uses cookies, is when you have entered the order entry shopping area of our site, we use "cookies" (a small file stored on your hard drive) to store your purchase selections. Specifically, cookies allow you to view the current shopping order, that is what you have placed in your cart. Cookies do not contain any registration information that would personally identify you. They only track what items are in your shopping cart. They do not record credit card numbers. Our cookies don't track your usage of other web sites or the Internet. If you restrict or disallow cookies through your web browser, you will be unable to use the shopping cart to place an order in that way. However, you can always phone in an order or fax the order. Ordering information.

Secure connections.
Love Plumbing & Remodel uses secure connections during the shopping Checkout, which means that information is encrypted before it is sent over the Internet between your computer and Love Plumbing & Remodel computers. You can verify that the connection is secure because you will see a key or a padlock at the bottom of your browser that indicates a secure connection. Another identifier of a secure connection is the URL (or web site address): the address will change from


when a secure connection is in place. Once your information arrives at Love Plumbing & Remodel, your credit card number is stored in an encrypted file on a machine that is separated from the site's Internet connection by a firewall. This firewall is designed to protect information from anyone viewing, stealing or otherwise accessing. We use commercially reasonable technological means to prevent occurrences of third party access.

More than likely you probably already transmit your credit card number electronically every day. When you swipe your credit card at the local store, your card information is encrypted and transmitted over a phone network. Using your card on a secure online Web site is very similar - your information is encrypted and then transmitted over a high-speed network line.
Love Plumbing & Remodel
12108 NE 163rd St
Bothell WA 98011
This is our current policy, effective 2016. We reserve the right to change this policy from time to time. You will know if the policy has been updated as we will change the effective date of the policy and will make a note on the site's home page that the privacy policy has been updated from a previous policy.