Repipes
There are several types of pipes used for supplying water to homes in our area: Copper, CPVC, PEX, Kitec, Poly, Polybutylene, Galvanized. For gas piping, CSST can be used in addition to black steel pipe.

Copper comes in three grades, M for thin wall pipe used mainly inside homes, L for thicker wall pipe, used mainly outside for water services and K, the thickest, used mainly between water mains and the water meter. Copper lasts a long time, is durable and connects well to valves.
Copper should not be installed if the water has a PH of 6.5 or less. The majority of public utilities supply water at a PH between 7.2 and 8.0 . Many of the utilities that have source water with a PH below 6.5 are treating the water to raise the PH. Private well water systems often have a PH below 6.5. When this it the case, installing a treatment system to make the water less acidic becomes a good idea.
The Copper Page , ViegaProPress Anvil
---
CPVC is a slightly yellow plastic pipe used inside homes. It will last a long time, not quite as tough as copper. Some areas with corrosive water will benefit by the use of CPVC piping. BF Goodrich makes a product called FlowGuard Gold pipe and fittings
FlowGuard Gold Marketing Department (800) 331-1144
9911 Brecksville Road
Cleveland, Ohio 44141-3247 USA
DuraTemp CPVC tubing are intended and recommended for use in hot and cold potable water distribution systems.
---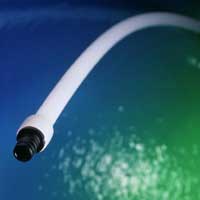 PEX is an acronym for cross-linked polyethylene. The "PE" refers to the raw material used to make PEX (Polyethylene), and the "X" refers to the cross-linking of the polyethylene across its molecular chains. The molecular chains are linked into a three-dimensional network that makes PEX remarkably durable within a wide range of temperatures, pressures and chemicals.
Flexible, installed with fewer fittings than rigid plumbing systems. A good choice for re-piping and for new homes. Works well for corrosive water conditions.
It can stretch to accommodate the expansion of freezing water and then return to its original size when water thaws. Although it is highly freeze-resistant, no material is freeze-break proof.
Wirsbo uponor ViegaPEX IPEX Zurn PEX
---
Kitec is a multipurpose pressure pipe that uniquely unites the advantages of both metal and plastic. Made of an aluminum tube laminated to interior and exterior layers of plastic, Kitec provides a composite piping system for a wide range of applications, often beyond the scope of metal or plastic alone. And unlike copper and steel materials, Kitec is non-corroding, and resists most acids, salt solutions, alkalis, fats and oils.
Ipex
---
Galvanized pipe corrodes. If you have this, expect only 40 years of use from it. The main problem with the pipe is that water will be severely restricted by corrosion that eventually fills the pipe completely. Another problem is the mismatch of metals between the brass valves and the steel. Whenever steel pipe meets copper or brass, you will see rapid corrosion of the steel pipe. Dielectric unions can be used between copper and steel pipes, however some of these unions will close off flow in a short time. In the City of Bellevue, they prefer using a 6" brass nipple between copper and steel pipes. The problem with dielectric unions is that it breaks the grounding effect if a live electrical wire comes in contact with a pipe. City of Bellevue requires the two pipes to be bonded electrically to maintain the safety of grounded pipes. If your house is over 30 years old, you can plan on replacing pipes to maintain water flow.
---
Polybutylene (discontinued)
Polybutylene pipe is a soft plastic pipe. I don't recommend it.
Anyone with a house, mobile home or other structure that has Polybutylene (PB) piping with acetal plastic fittings may be eligible for certain financial relief if they have replaced that plumbing system.
Qest, Thermoguard and Flex-temp
To be eligible for recovery under the Cox vs. Shell Oil, et al., class action lawsuit:
You must own or have previously owned a dwelling or other unit plumbed with a Polybutylene (PB) Plumbing System (conducts water to your sinks, showers, etc.), or a PB Yard Service Line (conducts water to your dwelling unit from the water company), or both. Boats and RV's are not eligible. You can also see the definition of Class Member.
The PB Plumbing System or PB Yard Service Line must have been installed between 1/1/78 and 7/31/95.
The PB Plumbing System must have been installed using PB pipe and insert fittings. The PB Yard Service line must be PB pipe but may have any type of fittings. See the photographs page.
The PB Plumbing System or PB Yard Service Line must have had at least one "Leak" as defined in Cox vs. Shell Oil, et al.
Consumer Plumbing Recovery Center
800-876-4698
www.pbpipe.com
Qest® Polybutylene, U.S. Brass Bankruptcy
---
PVC is a white plastic pipe used outside. It can be used only for cold water. It's uses include: water services, between the meter and building, and for irrigation.

---
Poly pipe is a soft plastic pipe that comes in coils, used for cold water. It is used on water services. It can crack with age or wear through from rocks. Other weak points can be the stainless steel clamps or galvanized couplings.
---
CSST for gas piping.
TracPipe®, is another brand of corrugated stainless steel tubing. TracPipe is
from OmegaFlex, which is a subsidiary of Mestek, Inc. (800)-671-8622
Titeflex Gastite® replaces black iron pipe and copper tubing with corrugated stainless steel tubing (CSST) for new construction and renovation. (800)-662-0208
---