This is less a water softener question and more a plumbing question, so I think it belongs in this subforum. Apologies if I'm wrong.
I'm trying to kill two birds with one stone, but want to make sure I'm doing it all right. My two issues are:
Poor water softener drainage
Lack of a utility sink in the laundry room.
I'd like to install a sink and drain the water softener into said sink, but ideally I'd like to avoid dumping brine water directly into the sink body for both maintenance and usability reasons. Instead I'd like to dump the brine water into the plumbing under the sink, which is where the problems start. Before cutting into plumbing I have two important questions:
Can I plumb the drain line into the plumbing under the sink and above the p trap (I plan to use this airgap), or do I need a separate p trap for the drain line?

The horizontal run of this drain line needs to pass through the stud bay that the dryer vent is in. I think I can relocate the dryer vent hole to be higher in the wall to make room, but are there any limits on how close PVC can get to a dryer vent?
Current Condition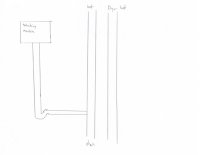 Single P trap (washing machine outlet excluded because I'm a slow drawer)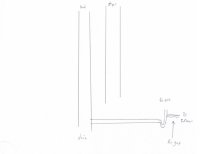 Double P trap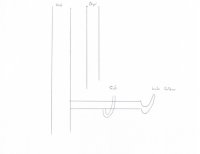 Edit: I saw in another thread about tying the utility sink into the washing machine stand pipe rather than the vent. I don't think this will work in my case purely because of positioning. The planned location for the utility sink is greater than 30" from the laundry stand pipe, but a mere 3' from the vent stack. I think this makes tying into the standpipe a no-go, but should be okay for tying into the vent with a separate P trap.
Last edited: