Hi,
I'm hoping I haven't made a big mistake by not fully addressing this sooner in my project.
I recently retiled my 2nd floor bathroom floor. The house is about 14 years old and has a 4" PVC drain on the floor mount toilet. I didn't replace the flange and so now with the addition of cement board (1/4" + thinset) and tile (3/8 i think + thinset), the flange sits slightly below the top of the tile.
My intention has been to use one of the inserts like the one pictured in the following forum thread:
https://terrylove.com/forums/showthread.php?t=236
So, I got the insert, cleaned up the old toiled, everything seemed good, but unfortunately the tile must not be set 100% flat by the toilet because its a little tippy.
I have 2 questions:
1) Am I asking for problem by not having replaced the flange but trying to use this insert instead.
2) Whats the best approach to a slightly tippy toilet? Would it be silly to stick some thin peel-n-stick weatherstripping along the bottom edge of the toilet so that when it sits there's just a little cushion before the hard tile floor?
Any advice for a total beginner would be much appreciated.
Thanks
-Dan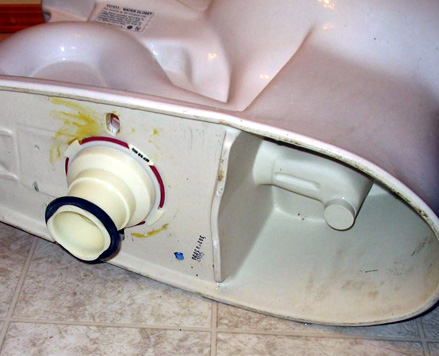 Last edited by a moderator: