Messages

30
Reaction score

0
Points

6
Location
So, what BTU/EDR' ratio did you design to?
but we don't know if the owner rounded down or rounded up to the 300 CCF/month numbers, or the exact meter reading dates
I know this because I've seen the bill. So the numbers are the numbers, there's no debating that it took a c**p load of gas to heat the place.
Sure, the boiler was massively oversized but the call for heat didn't come out of nowhere.
Air sealing is a prerequisite to insulating, and the cheapest thermal performance you can buy. Air sealing will avoid common moisture problems later by not letting humid indoor air into the attic to accumulate in the structural wood and insulation over the winter.
Totally agree
So I calculated the output of the 12 radiators in the house and it came to 43,943 btu (based on 130º water).
Because of the amount of rooms (12), I'm still going to need 12 radiators. Just in case some have missed it, I'm replacing the old cast iron with new cast iron, smaller size but still cast iron. Also, there is at least 80 linear feet of 3" cast iron pipe leading to the boiler so those that advocating keeping that should perhaps revisit their physics class.
But I digress, attached is what I feel is a best case calc for both floors. You'll notice that I re did the air infiltration for a "tight house". Comes in at 106K roughly. Now, as I said I can see dust balls moving across the attic floor when it's windy but I will be at least insulating the attic floor before winter.
The house is single zone now and I will be adding another zone upstairs.
I will admit this discussion is far more interesting (and frustrating) than I expected as I just was hoping for some input on reliability of different boiler brands but here we are.
So if the Veismann 94K and 125K have the same min btu, what is the argument here for going with the smaller boiler? The 125K would get me up to comfortable temperature faster.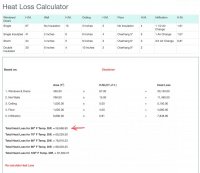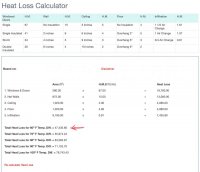 Last edited: