Messages

10
Reaction score

0
Points

1
Location
Hello from Seattle,
We have a laundry room that only has a standpipe and a cleanout. We want to stack the washer/dryer and add a sink. To figure out what I was working with I opened up the wall. I was hoping I could move the standpipe to the right (just left of the 240v outlet) and then plumb the sink in on the left (where the standpipe currently is), but after opening up the wall I see some problems. First off, there are two vents to the right of the standpipe vent which means there isn't much room to work with to fit a standpipe + p-trap in the wall. Secondly, the standpipe drain runs through what appears to be a supporting post in the wall...I'd prefer not to have to drill another 2.5" hole in this post.
Option A: I was thinking maybe I could combine the two vents on the right into a single vent in order to open up some space, but I'm not sure if the right vent needs to be tied into the main vent stack above a certain height? And even doing that I think it still might be too tight to fit a p-trap in the wall with proper arm length to reach the vent...
Option B: Leave the laundry box/standpipe where it is, putting a double fixture wye where the current standpipe connects into the drain/vent (below the cleanout) and then run the sink drain outside the wall over to the left. Less ideal having the drain running outside the wall, but it will be out of sight behind the washer/dryer & cabinets that we plan to build.
Option C: Drill hole(s) in the post so that I can add the fixture to the left of the standpipe, but I think that would require multiple more holes in the post (one for the drain and another for the vent of the whichever fixture needs it). Are my concerns of drilling more holes in the post warranted?
Anyone have any other ideas?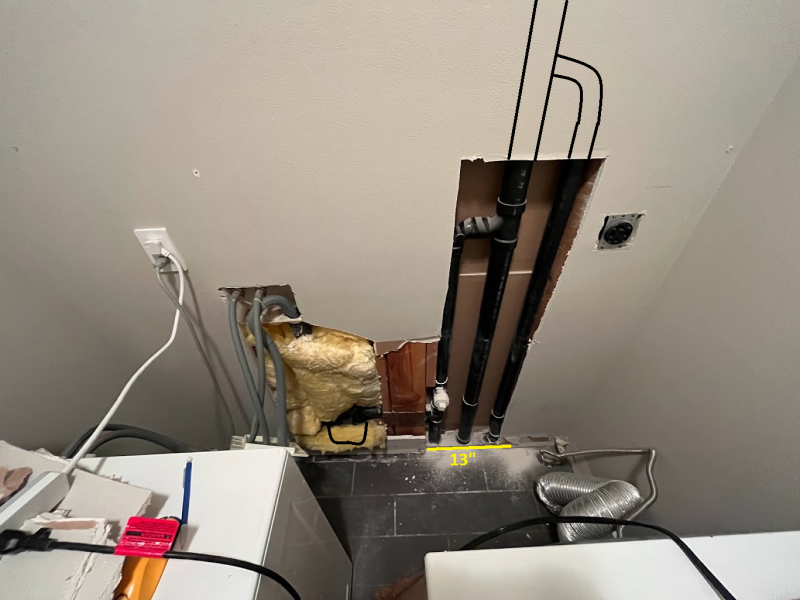 Also I've read that a laundry standpipe p-trap needs to be 6-18" off the floor. Ours is certainly less than 6" off the floor, does that mean it was not built to code? Will this be a problem if I get the plumbing inspected for a residential permit to add the sink?
Thanks for reading and your advice!