Messages

6
Reaction score

0
Points

1
Location
Ok let me give a short run down, father in law replaced my bathroom floor with Pergo a week or so ago...when we go to put the toilet back what do we see but this: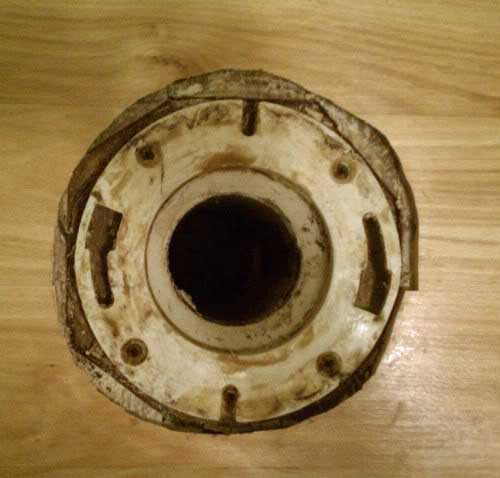 Look at that flange! Those slots that are 12 and 6 should be more at 1 and 7 or 2 and 8 in order for the bolts to be able to be seated correctly no??
I am in a townhouse that was built in the 80's and finding all sorts of stuff that was really done on the cheap and not much attention to detail...So the builders just screwed it in any haphazard way and when toilet was attached it had to be put on with the bolt heads just BARELY hanging on. I know the pic looks like it may be enough to grab a bolt but it really doesn't
If I try to put the toilet back on now it is well..lets just say it is at a severe angle so that the bolts have enough seating in the flange in order to grab on......if I try to put the bolts right near the edge so it is not TOO crooked the keep slipping out and popping up so not getting it to lock down
So to my question...about 6 inches down the hole the is a seam where it looks like the flange (yes it is all one piece from top where the bolts go to about 6- 8 inches down.
Should a plumber with the right tools be able to replace this piece and put a new flange in that is oriented correctly?? I undid the 4 phillips head screws that go into the subfloor but I could not budge it frown
So I'm hoping a someone here either a plumber or a good handyman would know if this is a fixable issue?
Last edited by a moderator: