Messages

96
Reaction score

0
Points

6
Location
I came across the method for venting an island sink while browsing threads on vent issues. I'm so glad I found this. I had previously given up on trying to properly vent my kitchen sink because of the double window above it and had planned to use a Studor vent. However, I think the island sink method will solve all the issues I have and be a much better option. I check the NC Code and found that this method is allowed for kitchen sinks. However, I do have some questions.
Here is a picture showing basically what I want to do. I saved the picture from another site and have added labels.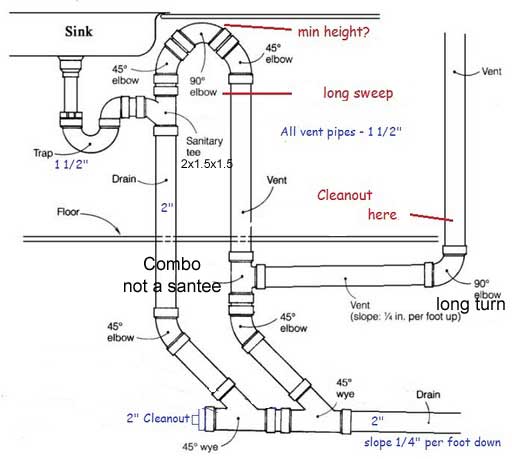 1. Does the bow vent (the highest point under the cabinet) have to be higher than the bottom of the sink?
2. What kind of 90 elbow is at the top of the bow? (Regular or sanitary 90, as opposed to a vent 90 or long sweep 90)?
3. Where do the cleanout(s) for the vent go? NC Code says this:
Cleanouts shall be provided in the island fixture vent to permit rodding of all vent piping located below the flood level rim of the fixtures. Rodding in both directions shall be permitted through a cleanout.
To accomplish this it seems like I would need a cleanout in both locations shown on the drawing.
4. Is there a maximum horizontal distance the foot vent can go before making the turn to vertical? I need to go between 6 and 7 feet.
5. What type of 90 elbow is used where the foot vent turns to vertical?
Thank you for your help.
Last edited by a moderator: