Messages

6
Reaction score

0
Points

1
Location
Hi all,
I've taken over a renovation project and we've done some things in the wrong order.
We're installing a console sink in a tiny ensuite. The tiling has already been done. Of course with it being a console sink the water lines and drain are exposed and so should be aesthetically pleasing but I'm worried it's going to end up looking like ugly shit because we didn't plan ahead properly.
The two copper pipes are stopped with sharkbite fittings. My problem is with the fact that one of the pipes is so short out of the wall that a tile has had to be popped out just to be able to get the sharkbite end stop off, because it was sitting within the tile.
What do I do here? I want to be able to attach attractive chrome fittings. I don't know much about plumbing really (a plumber friend is going to help but just cash in hand and he'll want everything set up and decided when he arrives). Can more copper pipe be soldered on to extend it out or is it not a good idea to solder that close to the tile? As it stands there is not enough pipe available to attach a compression fitting. And i don't know how we would get an escutcheon in there.
Also, what about the drain - would there be any issue installing a chrome fitting there? Please be gentle I know these are dumb/basic questions and I know we should've sorted this stuff before the tile went up.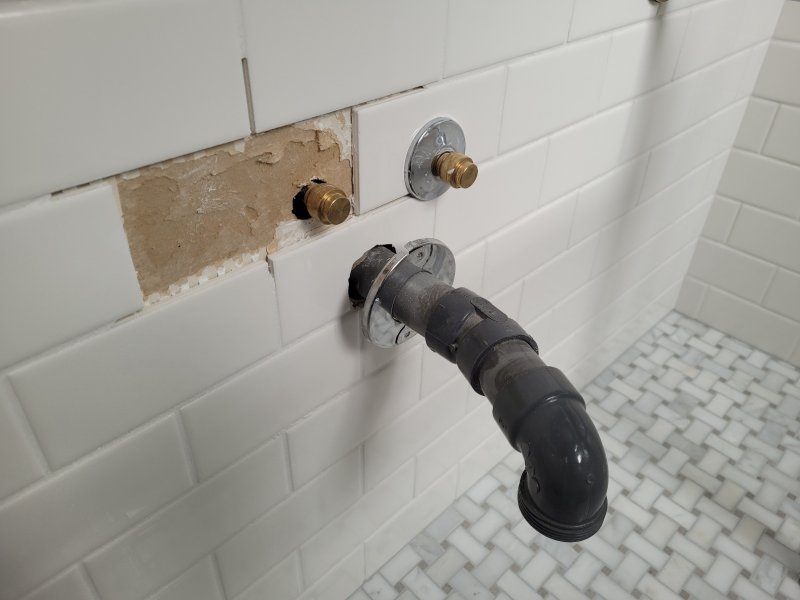 Last edited: