Messages

5
Reaction score

0
Points

1
Location
Hi all!
Short-time reader, first-time poster. I just moved into (renting) a Seattle-area townhouse and have realized my heating system is, unfortunately, a hydronic open loop (in-wall forced air radiant) system using a standard hot water tank that is shared with the domestic water system. The owner of the townhouse is not at all mechanically inclined (didn't even know where the water shutoff was on our move-in walkthrough) and had the recirculation pump, which is only connected to the radiant heating PEX loops (ie. not the hot water taps) set to run 24 hours a day which also seems to cause the hot water burner to run 24 hours a day ‍‍(yuck!).
I switched the circ pump to run on timer for only 30 minutes starting at 3am to keep the water in the loops from being stagnant, but, since doing this, I can only get lukewarm water from the tap when the circ pump is off. I've tried adjusting the mixing valve to the hottest setting, but when the pump is off, it doesn't seem to let sufficient flow of hot water into the hot side of the mixing valve. If I close off the valves to the radiant loops, water temp to the taps is hot again. Also, If I run the circ pump, water temp is hot.
My big question is: how can I avoid running the circ pump all summer, keep the lines from becoming stagnant, and have regular hot water to the taps?
Also, who thought it was a good idea to design a system like this?! Pic of system below: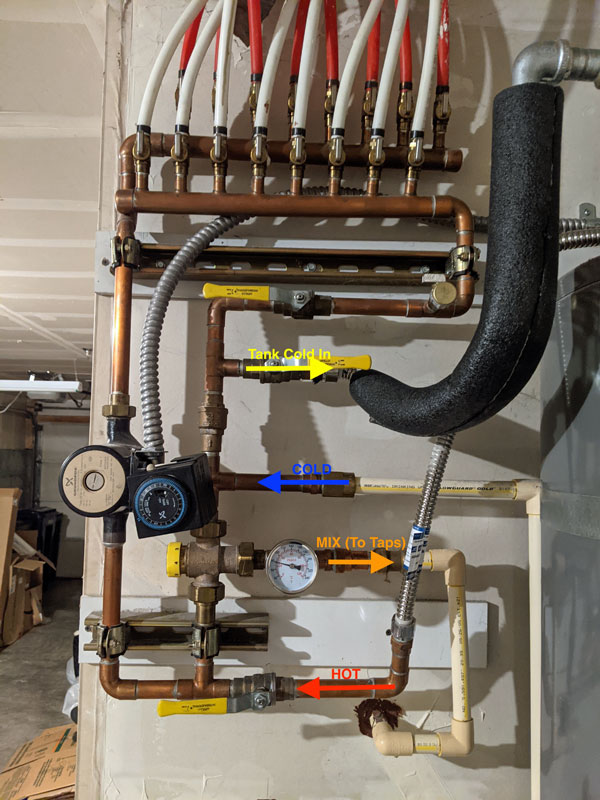 Last edited: