Messages

2
Reaction score

0
Points

1
Location
Hi all, I need some advice and suggestions please.
In my downstairs utility room, I would like to change a utility sink to a kitchen sink, move my laundry connections from one wall to another, and add a laundry connection upstairs on the other side of the same wall (in a carport closet).
The utility room currently has a floor drain with 1.5" stack vent, a utility sink with 1.5" vent and drain, and laundry with a 1.5" standpipe and drain. The floor drain will be plugged, and that would leave 2 laundry @ 3DFU ea and one kitchen sink @2DFU so I think 2" pipe should handle all of it. Does my diagram with AAVs look like it will be correct?
I know the existing galvanized drain sizes are not up to current UPC and I want to correct this.
Am I likely to find a 2" drain under the slab that I can connect these into?
This house has galvanized supply pipe (being replaced with PEX) and galv + cast iron DWV. All the closet flanges are 4", and the septic tank is SW of this room (back-left of viewer perspective).
Thank you!
<edit: added scans of diagrams for better visibility>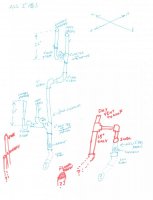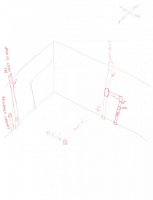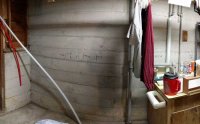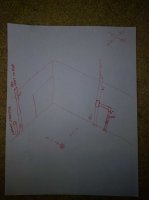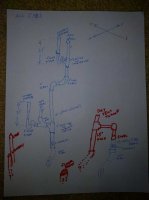 Last edited: