Messages

2
Reaction score

0
Points

1
Location
Hi I am hoping someone can help me identify the stem/cartridge for these faucet handles. 1918 home in California Bay Area, though the shower remodel is surely later than that.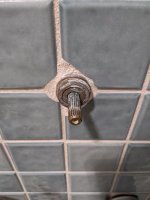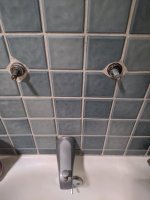 The existing stem protrudes a mere ~1 1/2 inches from the tile wall (with the cold side protruding about 1/8 inch less than hot). And the cartridges seem to have been buried in grout/tile when a prior owner retiled and brought the shower wall out from the room wall (my guess is they added a wall-mounted shower pipe to what was only a tub and then just tiled over everything).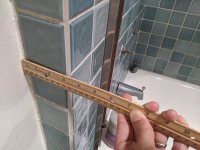 The stem has 20 point splines which extend the full length of the stem rather than being isolated to the tip of the stem. Diameter of the stems is, by my ruler, 7/16 inches. There is some sort of nut--not a hex, but a circle with two flat sides--at the base of the visible stem that might be able to turn with a wrench. But I haven't tried that for fear of what might go wrong. I'm not sure it's the "packing nut" or what.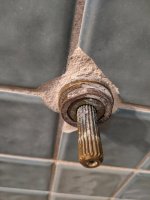 The handles themselves have been fitted with some sort of adapter and entirely lack a set screw to secure them to the stems, making me think they were repurposed from bathroom sink faucet handles? The stems, by contrast, have what looks like a hole for a traditional set screw attachment point.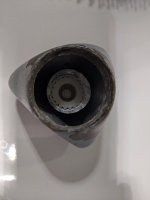 I've done a fair bit of internet sleuthing and have called a few antique or specialty plumbing repair parts shops but no one has been able to identify these stems/cartridges. Can anyone help?
Also, I'd welcome any ideas for extending the length of these stems. All I can think of now are the "universal" adapter with a square broach. I'm not sure if there is a solution short of breaking out the surrounding grout/tile but I'm open to anything -- thank you!