I have a multiple zone shower and one of the three zone on/off knobs started getting loose a few months ago and now has fallen off. The cartridge inside wall is splined, then there is a white plastic piece that screws to threads outside of that and then handle screws inside of that white plastic piece to tighten against the tile to create tight seal (I think). Issue is I cannot get it tight because you can only tighten down so far before you can't fit your finger behind knob against the white plastic to spin it, so your left with a knob with 3/4" gap behind it. I cannot find a set screw or cap on this knob… but I do see a small gap that I thought was a cap but when I pry on it I feel like I'm going to break it. Anyone ever seen these before and know how I'm supposed to tighten it down? I even considered cutting hole in drywall behind the shower to access to tighten but when I looked closer at it now I realize I wouldn't be able to fit fingers through gap in back side to tighten the plastic cap down either. I'm clearly missing something… unless the plumber who installed this knows magic.
Photos below are showing first splined cartridge on wall, then first plastic piece that screws onto outside threaded portion of cartridge, then the knob that I can't screw down alll the way because eventually fingers not small enough since you have to tighten until no gap left.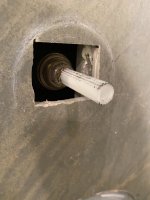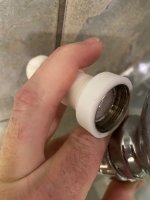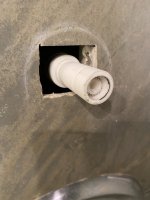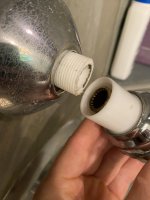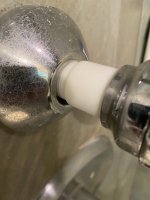 What the other knob looks like fully tightened down. It's so tight the collar/seal doesn't even rotate if you try to twist it. I'm clearly missing something here.