Messages

65
Reaction score

1
Points

8
Location
So as part of trying to solve a 4" cast iron leak disaster, I discovered that a hole had been cut sometime before I bought the building. It had been epoxied, taped over and painted. There also appears to be another hole in the elbow above it!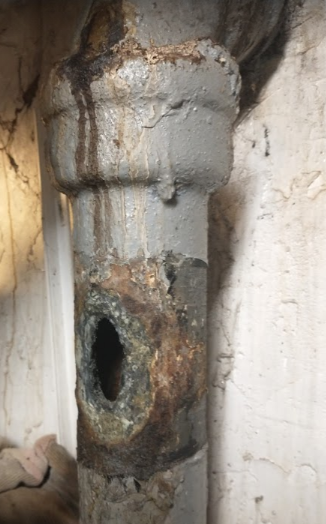 What is the best plan for dealing with these holes? The elbow hole can be permanent, but I need access to clean this stack. Right now I have a piece of 6 mil poly wrapped on with 'shrink wrap' packing tape.
FWIW, the main problem is a leak somewhere between the 1st and 2nd floors. I have the 1st floor ceiling open (was destroyed) and can see it's not coming from the 2nd floor branches in any way, nor do they get any backup in their tub. I'm thinking there's a blockage above their laterals and the 3rd floor water is backing up to a bad hub seal. I have a 10m 5mp boroscope arriving any day now. Was supposed to be yesterday!