Messages

30
Reaction score

1
Points

8
Location
Hello,
Quite some time since I've posted on here, but I've always appreciated and respected all of the member's feedback anytime I've come into a problem, or wanted to look something up plumbing related. Although I'm by no means a plumber, I still enjoy the work, and find it really fascinating work.
Anyway, my good friend of mine is doing a 'soft renovation' of a powder room off her kitchen. Just a simple cosmetic reno without really breaking anything. She would like to install a new toilet and pedestal sink. Upon disconnecting and removing the old toilet and sink (just a basin held to the wall with a large metal clip?) I noticed that her stub out for the drain of the sink is made of copper, 1.5" I'm sure. It appears it has a male threaded ring soldered to the end. Her P-trap was an older silver plated brass one that screwed directly into the male ring. I'm just wondering what is the best/simplest way to hook up her new sink? I'm not confident that the new sink drain length will be the same as the old one. I'm thinking if I have to extend the stub out, I can put a PVC FIP Hub adapter right into the copper, than a small length of PVC, followed by a 1.5"-1.25" trap adapter, than just put a 1.25" trap the rest of the way. Would this be correct? I'm looking to do this the most cost efficient way (hence PVC), but more importantly I want to avoid any issues in the future.
At this time I don't plan on breaking the wall more to try to remove the copper stub out, and I don't like the idea of the Fenco no hub couplings since it will be visible; but like I said I'm open to suggestions as to make it correct.
If it we're my home, I would probably break up the wall and cut the steel drain, and just tie in a new PVC san tee, and PVC the whole drain, but she has limited time, and money.
Btw the drain was working correctly/fine no leaks or drips. I just figured this would be a good time to replace since there was a good amount of corrosion/build up in the trap.
Thanks!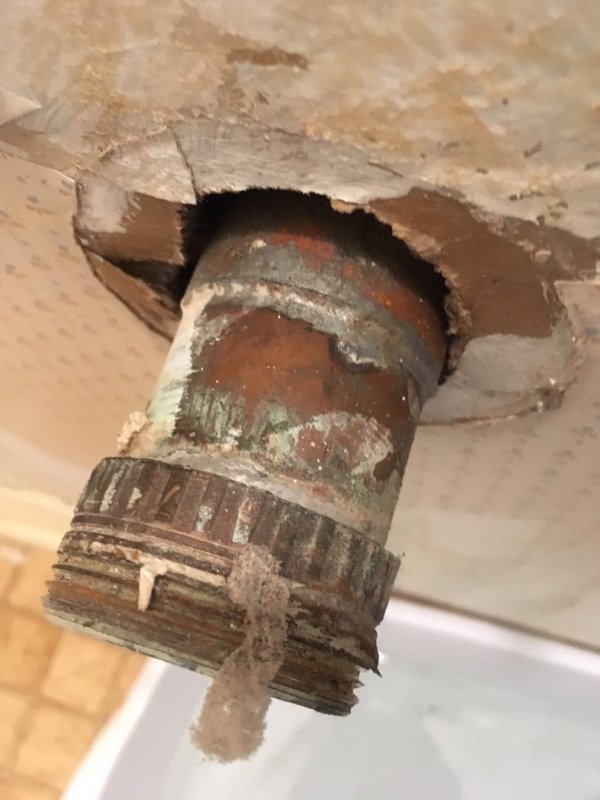 Last edited by a moderator: