Messages

3
Reaction score

0
Points

1
Location
My niece decided that since I helped with the electrical work on her new addition, I can do plumbing as well...
On the second floor, she had a powder room (toilet and tiny corner sink). The drain is a 3" pipe down to the basement with no other connections. Vent was a 1.5" pipe thru the roof (yes, I know it should be 2"). She is converting it to a master bath; framing is all done...
The bathroom is 7'3 x 18'4. The toilet will stay where it is, but of course the piping will have to be changed to allow for 2" vent and 2" drain from the rest of the fixtures. Basic room layout is shown below. I have full access to the attic void above, so I can easily dry vent and tie the vents together there before going thru the roof. I may need to run two vents through the roof to get to the area of the 3" pipe to the septic.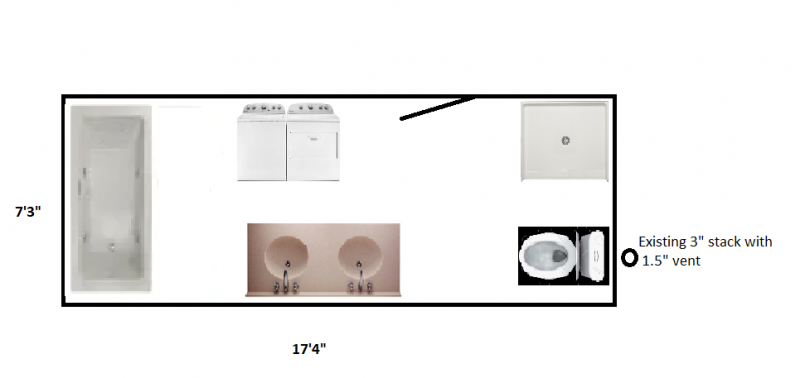 How does this look for a basic drain and vent scheme? Once I figure out the basics, I will tackle figuring out the correct fittings.
To top it off, the drains must fit in a 2x8 joist bay or 2x4 walls. I may have a few extra inches below the floor where the stack is since that is in the boxed in soffits above the kitchen cabinet but that doesn't give me much space. I am not sure how the P-traps for the shower and tub will fit given the slope from the tub to the stack. The walls on the second floor don't line up with the walls below (but fortunately don't line up with floor joists either, and the joists go left-to-right in the drawings above).
Thanks for the help.
/mike