First time poster, the forums have been great for other questions I have had in the past. Have a bit more unique situation that I can't find a good solution/verification for.
Background info:
I am drawing up the plumbing for a basement bathroom (DIY) and would like to know if I have the drains and vents reasonably (read: properly) done and if there were ways to improve it.
The bathroom will have washer, shower, sink, and toilet needing to be plumbed. The configuration is partly limited and driven because of ceiling height (to meet local code for height and put the shower where there is the most head space)
The distance from the shower to the existing main is ~14' (my understanding is I need a 3.5" slope from shower to main, which will require 4" pipe). There is enough ceiling height outside of the planned shower to allow for all water lines and a vent to be brought across and still meet code for height from floor.
The plan is to bring new vent(s) up alongside the existing 3" vent, tie-in above the fixtures in the upstairs bathroom (upstairs is toilet, sink, shower/tub).
Several questions:
1) Can I vent the washer drain and shower together as drawn? (there would be enough room to vent the shower separately, but would prefer not connecting vents between/over the planned door, one vent seems easier than two there and allow to me to bring it across between two low points in the ceiling)
2) Can I transition from 2" to 4" for the drain portion from shower/washer to the existing 4"? (I know that a 3.5" slope needs 4" pipe, but unsure if I can go 2" to 4" pipe while maintaining that slope)
3) Am I properly venting the toilet and sink?
4) Suggestions for improving it overall? (saving on materials is less of a concern as much as making sure everything drains and vents properly)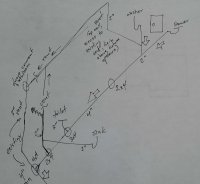 Thanks!!!