Messages

12
Reaction score

0
Points

1
Location
I've begun a major DIY project (for me, anyway) re-modelling our main bathroom upstairs (first floor). Previously, the toilet, shower stall and sunk bathtub were installed on a tiered platform structure. The wife want's everything on the same level.
Having removed the platform structure, and the old 3/8" ply that covered the tiled floor sections, I'm down to the 5/8" OSB subfloor nailed on 10" I-Joists spaced at 16". The sub-floor was already pretty rough cut where the existing plumbing for the toilet, shower and tub came up and I've opened up those sections to figure out how best to plumb for the new utilities.
The existing water lines are Poly B and I was thinking about replacing it with Pex. However, having seen how the lines route through the joists and pass up through the wall frames, I'm not sure that would be possible without pulling up a lot more subfloor. Even accessing through the ceiling below would be difficult because of the structural layout.
So I'm thinking about replacing only what is necessary and accessible – specifically, one section of the sub-floor 3/4" lines to supply the new bathtub (standalone with pedestal faucet) and 'above floor' 1/2" branch lines in the walls that will supply the toilet, vanity and shower. Obviously there will be some reconfiguration of the drains also.
That said, another major consideration is how to provide an adequate support for the sections of sub-floor that will be replaced. I'm thinking it could be done by framing with 'sister' and cross (block) sections of I-Joist, but I'm not sure how best to go about that.
I've attached some photos to illustrate what I'm dealing with.
One is the toilet section. There I'll need to add support on three sides, unless the edge that still has the existing 'tongue' intact is still usable and doesn't need supporting underneath.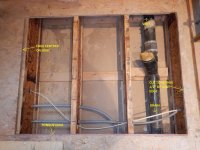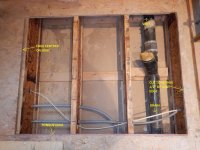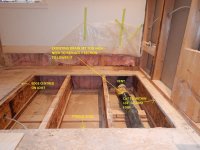 The other is the section where I'll be re-plumbing for the new standalone bathtub. That will need added support on all four sides.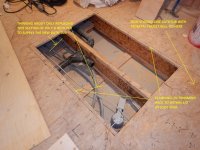 Would appreciate any advice on how to do this. I should perhaps mention that I'm going to applying Ditra XL directly on the OSB and tiling over that.
Cheers.