I have searched the web for hours for this. I need a 3/8 FIP inlet w/ dual 3/8 outlet + stop to install a Toto washlet.
Basically what I need is the pic below but with a 3/8 fip inlet. (The pic is 1/2" inlet—easy enough to find.). I'm gonna guess that a 3/8 version does not exist. Does anybody know why not?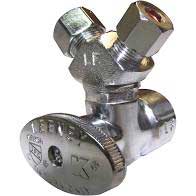 BTW, the rest of my house has been converted to plastic, but this stretch of, ugh, galvanized pipe, from my downstairs half bath to the upstairs bath would have involved a particularly troublesome teardown of our foyer. A project for the lockdown, perhaps, since no one is coming over for weeks/months.
First post here, btw. Just signed up. Any help much appreciated.
K
Last edited by a moderator: