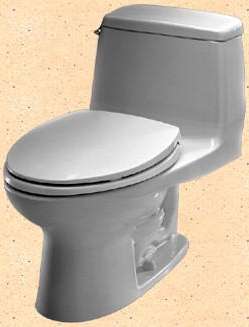 Internet sites that sell TOTO seemed to have two prices for
the TOTO MS854114, which was the one-piece model I wanted-- and the
prices were quite a bit apart. We live in a metropolitan area of
400,000 but finding TOTO locally was not easy. A big box store and a
plumbing show room could special order the TOTO, but both quoted the
higher price, which was pushing $500. After much searching I found
that the locals didn't seem to know that MS854114 and MS854114S are
the same shape, size, and color toilet, except that the "S" version
has TOTO's G-Max Toilet Flushing System, and the model without the
"S", the cheaper model, has power gravity flushing. I later found out
that the plumbing supply showroom has a special deal with Kohler, and
that company discourage dealers from ordering products outside the
Kohler line. The box store sells a lot of toilets between $70 and $200
and of course fills out their inventory for volume sales in that price
range. I bought MS854114 at a plumbing shop on the coast, 130 miles
from home. We've used this TOTO model for about three weeks, and I am
still astonished at the flushing action-- a complete and clean flush
every time, with amazingly little water use. Inside, the tank is
simplicity itself. Its one-piece bowl and tank are easy to clean, and
this model --the "Ultimate Toilet" as the sticker on it said-- has a
seat that won't slam down. Get it started on its way, and it lowers
itself very slowly and quietly. In all, MS854114 is a gem. I had a
concern about installing a low water-use toilet on a drain system
designed for five gallon flushes, but I don't think I'll have a
problem. A shower drain is up-line from the toilet, and the shower is
used daily. TOTO's MS854114 could easily take this geographical market
by storm if the company did even a little promoting. By the way,
although TOTO is a Japanese company, it's the world's largest plumbing
manufacturer, and most of the TOTO USA toilets sold in here are made
in Atlanta, Georgia and to American specifications.
Gilbert Gia