Posta Followup
Consumer reviews and opinions can be posted below concerning the Kohler CimarronTM Comfort Height toilet.
Posta Followup

I installed this toilet in about three hours last Sunday. It was the first toilet I have ever replaced and I took it very slowly (with my eight year old son assisting). I can honestly say, I was surprised at just how easy it was to install. Overall, I like the toilet and it has a good, strong flush. My old toilet was a Briggs, developer special (stamped 119 inside), which clogged every other day. The Cimmaron flushes everything first time, no problem. My only complaint is that it does not clean out the bowl well at all. The water falls straight down from under the rim into the drain without swishing around the bowl. As a result, it does not clean the bowl. So now instead of the plunger by the bowl, I have to keep a toilet brush (which I guess I had anyway). Its a good toilet though and I am very happy not to be plunging. I just wish it would do both--flush well and clean the bowl. I guess next time I will try the Toto (if I can find it).
Mon, 6 Dec 2004 Karen H
This toilet works great compared to the old Mansfield that always plugged. I have 2 other Mansfield toilets that I plan to replace with the Kohler. I actually had my 17 year old daughter remove the old toilet and put in the new Kohler Cimarron toilet. Very easy. In less than 1 hour, my daughter learned how to install a toilet.
Tom P Fri, 18 Feb 2005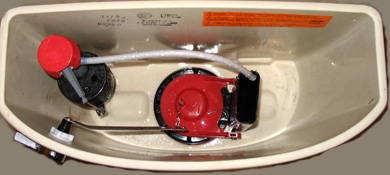 I bought a brand new home eight months ago. The builder had installed Gerber toilets that constantly got clogged up. I bought a Kohler Cimarron after reading the reviews and comments on Terry's website. I am by no means a "handyman" but it only took me about 2 hours to remove the old toilet and install the new one. I did not run into any problems, and with me that is unusual. The whole project went very smoothly. When I was finished, I showed my wife and flushed it, and she wasn't very impressed, I think she was expecting a very loud and noisy flush. I then took 4 full sheets of Bounty paper towels, balled them up and threw them in. When I flushed and the toilet sucked them right down, she was very impressed! It has now been about two months with no problems at all. I would highly recommend this toilet to everyone! Thanks for the help Terry.
Dave Kay Fri, 11 Mar 2005
I never thought I'd be this excited about a toilet! We put in a new bathroom in the basement and selected the Kohler Cimarron in Black with a Kohler Black HEATED toilet seat! In 6 months, we've never had to flush it twice, love the warm, comfortable seat, and don't have to run upstairs anymore!! This toilet is awesome!!! The comfort height is 2 inches taller than the older toilets and that's great (the black color doesn't show any dirt, but I put a solid blue tablet in the tank which helps keep the bowl clean when it flushes). Ann (in "Kohler Country" - Wisconsin) Fri, 11 Mar 2005
The back of the bowl is missed. No water seems to hit that part. It does plug more than some other toilets we've used, namely the Toto Drake and the Toto Dalton which clean the bowl better and plug less. It is an improvement over the Kohler Wellworth. The Cimarron has an easy to install tank, but would have preferred the "dam" on the bowl to prevent liquids from going under the tank connection. The flush lever is hard to push down.
Amy C. Mon, 28 Mar 2005

The tank is easy to install.
We installed a Kohler Cimarron (elongated comfort height) two months ago and are returning it because it not only clogs frequently but also is very difficult to unclog -- the shape of the bowl is such that a plunger just can't get suction. We bought the Cimarron because it, along with the American Standard Champion, was highly recommended by Home Depot and we liked the style of the Cimarron over the Champion. After making many phone calls the last couple of weeks, I seemed to get consensus that the Champion was a good flusher -- but after reading the comments on this site I'm not so sure. I'm going to check out the Toto Drake.
E. Slager Thu, 14 Apr 2005