Re: rialto 1982 one piece toilet
Posted by e-plumber on June 24, 2004 at 08:15:12:
In response to Re: rialto 1982 one piece toilet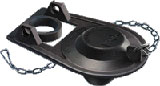 : i have a one piece toilet (1982) rialto, with a 1B1X
: ballcock. i have been using the B262 flapper ( comes in a white box. i dont know what the manufacture has done but the flappers that come in the box are diffrent sizes some hold some don't. anyone know of another good flapper for these toilets. they are a pain!
: thank all!!
Reply:
Another satisfied Rialto owner...
You're right, sometimes the (tank ball) type flapper will not work even though it is designed to. Try using a regular Korky flapper, it works, I have done it numerous times. Or buy a Kohler (OEM) flapper, the one in the white box is an after market brand.
e-plumber


Replies to this post
There are none.