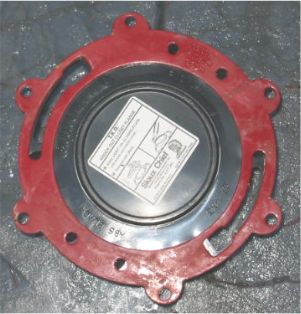 John,
The lead can be reused.
If you want to use regular "closet bolts" then I would suggest installing a flange over the top of the lead.
I use these red rings in this situation.
Terry
: Terry,
: I purchased a Toto Ultramax from you several weeks ago and it's now time to do the installation. Last evening I pulled the old toilet, and much to my surprise found a rather primitive installation -- a lead riser flared around some sort of flange that is embedded in the subfloor (the home was built in 1945. I have seated toilets before, but only on the more modern wax-ring flanges. The riser seems to be in fine shape. The rubber gasket (seat?) from the old toilet was getting old but there is no sign of leakage (i.e., the floor appears to be in good shape).
: 1. Is it imperative that this old lead riser be replaced with a new abs one?
: 2. If not, is there any reason why I shouldn't run longer bolts through the floor and secured with good-sized washers and nuts rather than using screws (into the wood sub-floor) as were used in the earlier installation? I'm concerned that screws wood no longer get adequate purchase in the old holes.