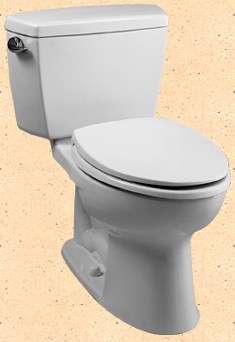 : I'm considering replacing my toilet with a Toto Drake, but have read that skid marks may be an issue.
: One internet source recommended installing round front, rather than elongated, toilets to help minimize issue.
: Is this a good idea? Or is the difference negligible?
: Thanks in advance for your thoughts....
Karen,
Mainly, you will have a strong lower siphon flush, with an addtional bowl wash from the top.
The Toto Drake rinses straight down from the rim, so whether it is round or elongated makes little difference.
The elongated gives another 1.5" of space, which I find nice.
I recommend the elongated.