: I put a CHAMP toilet from standard in my 17 year olds bathroom. He is a beast of a kid at almost 225 lbs. He has some unusual belief that the toilet is a household appliance that should be challenged on a daily basis. Not a clog and ten times as quiet as my downstairs "shotgun" pressure toilet.
: WOW. What ever screw up the other emails claim that the other toilet had, it doesn't have it on mine. I looked at the TOTO you recommended and it is a very expensive purchase.
K Kuc,
I'm glad your A/S Champ works well for you.
The one I have doesn't work as well.
Incomplete flush at times. I think the amount of water varies, based on how much water is still in the tank, or how long the flush tower stays up.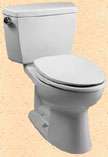 As far as cost goes, I sell the TOTO Drake elongated toilet for $229,
which is less than I've ever seen the Champ sold for.
Flushing is consistent.
You must have a pretty loud downstairs toilet though. I've heard some old Kohler pressure assist that had a pretty good squeal.