Re: 4" sewer main, can my vent stack be reduced to 3"?
Posted by Terry Love on February 28, 2004 at 14:13:58:
In response to Re: 4" sewer main, can my vent stack be reduced to 3"?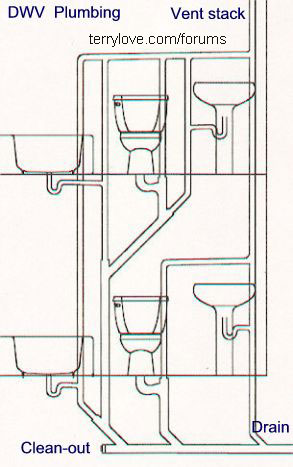 : I am in the middle of a remodel/addition. I ripped out all my cast/lead/galv pipe and am going all PVC. My main stack was 4" cast. I put a tyseal in and converted it to 4" PVC. Then in order to jog the pipes the way the short sections of cast were, I used two 22 degree 3" fittings...thus reducint my vent stack to 3". Is that illegal? I read somewhere if you have 4" sewer, you have to have a 4" vent stack. But I also read that a 3" vent will support something like 100 units? I will only have two baths and a kitchen. Rob,
Rob,
Most houses vent with a cross section of 3" depending on the local code.
Since plumbing is all over the home, you may have a 1.5" vent for the kitchen, and another one for the laundry. Count the number of vents going out the roof. This will give you some idea of what you have.
Replies to this post
There are none.