Re: Flapper gets stuck after flushing
Posted by e-plumber on February 13, 2004 at 17:25:18:
In response to Re: Flapper gets stuck after flushing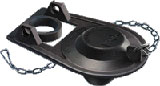 : After flushing the flapper inside the tank will get stuck at the tip not on the sides. I replaced the flapper about a year ago because the old flapper had disintergrated. Is this happening because I got a geneic flapper? Do I need to get one for that model? Could a weight on the chain near the flapper force the flapper to close with more force?
Reply:
Try installing a new flapper, if it is a typical flapper, use a Korky brand flapper. They last quite a while. Stay away from sanitizing tablets that drop into the toilet tank, they can accelerate the deterioration of rubber parts.
Good Luck. e-plumber


Replies to this post
There are none.