Re: HELP....... I HAVE A MAJOR PROBLEM!!!!!!
Posted by Terry Love on January 22, 2004 at 02:34:21:
In response to Re: HELP....... I HAVE A MAJOR PROBLEM!!!!!!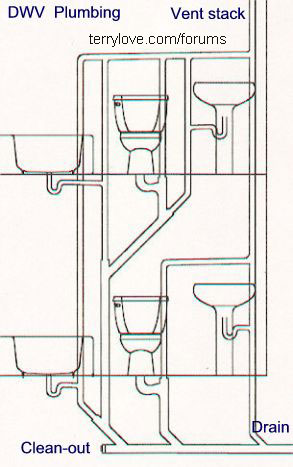 : I recently asked for help on my toliet bubbling and my tub bancking up when I did laundry.
: Toinght I went into the basement and was shocked that water was everywhere. I got a flash light and pointed it up to see where the water was coming from I noticed that the air vent was cracked. It had a crack that went up the side, about 12 "and over like a "J". The crack was about 1/4" wide, rusted and wet!!!
: I went and flushed the toiled 2x's and went back down stairs. I could hear the water trickling throught the main line going outside. I know believe my problem is the vent pipe and not a main line blockage.
: Can anyone give me advice about this. Can the vent pipe be replaced and how much could this cost me......
Colleen,
You may have a leak in the waste stack from the upstairs. A plumber can cut out the bad section and replace it. I don't think it will be that bad. Terry Love



Replies to this post
There are none.