We recently moved into a newer home (built in 2002), which had rather fancy-looking Kohler Santa Rosa toilets installed by the builder. We had some troubles with the downstairs toilet and decided to replace it with the Toto Ultramax with Sanagloss, but to keep the Kohler upstairs for a comparative test. (The Kohler Santa Rosa looks, to a lay person, quite similar to the Toto Ultramax.) After a half year of living with both toilets, we found that even when we were upstairs, we would often run downstairs just to use the Toto, since the Kohler plugged so easily. Now, after a dozen or so trips to the garage to get the plunger for our Kohler, we're installing a Toto upstairs as well. The two toilets may look alike, but they certainly don't work the same.
Thu, 19 Jan 2006 GZ

The most recent comments about the Toto Ultramax
---
I had to say thank you for allowing me to "dodge the bullet" with american standard. I listened to all of you and bought the toto (about $100 more than AS). It is GREAT! I am in an area with very low water pressure and it works without a problem. I haven't seen anything that works this well since gravity!
Thu, 12 Jan 2006 bobby
---
Thank you very much for the info on this web site.
Based on this info I purchased a Toto Ultramax (MS854114S). It wasn't inexpensive.
It was easy to install the toilet too. I didn't have to adjust the flush valve or connect the flapper (already done by Toto).
WOW! My whole family is impressed. The flushing action of this toilet is really neat. It looks sharp too. And it's got that "1st class" look about it.
Best of all it does a "one-flush" job -- which is why we replaced an older Eljer toilet with it. The Eljer kept getting stopped up, and we were afraid eventually it would overflow badly into the house. I can tell already that this isn't going to be a problem with the Toto.
Web sites like yours are what makes the internet so great to use.
Sincerely,
Fred Klintworth
Summerville, SC Sun, 2 Oct 2005
---
I bought one of the subject toilets as a result of reading the reviews on this website. All I can say, is, after 6 months of use -- it's terrific! Never, ever, the slightest hiccup in operation. It's a wonderful piece of equipment - very efficient, never a second flush, quiet, soft-lowering seat is wonderful, and the height and seat etc are perfect for this guy who likes to read a lot on the throne. B. Bogash Snohomish, Washington Sun, 30 Jan 2005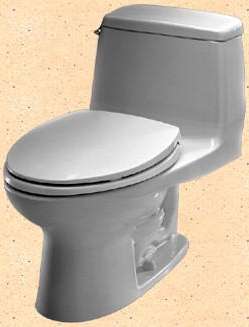 ---
Thanks for the great web site and the link to the MaP data. I have been fighting with a 1994 1.6 gpf Kolher for several years now. I found myself in the position of being a serious performance toilet shopper, thanks to a backup that flooded the bathroom. I could not find a good comparison of toilets until I hit this site. I purchased a Toto Ultramax toilet and man what a difference. I no longer have to warn people before using the toilet, which is kind of embarrassing. One flush does it and I have not touch a plunger since installation. I will be getting 2 more in the near future....
Thanks, Chris from Nashua, NH June 28 2005
---
What an incredible toilet. I've never been too interested in toilets except when they clog.
We purchased a ten year old home with Am Standard toilets that all clogged in the first week. I found your site and got the Ultramax with Sanagloss. It is perfect in every way.
Easy installation, excellent cleaning, flawless flushing, quick refill, and a joy to own. A welcome throne in our home!
R. Snyder, Mt. Pleasant, SC Sat, 25 Jun 2005
---
I just installed the UltraMax last night and the toilet works fantastic. Quiet, Fast and Thorough. No swirling, everything just drops.
John Bercik Tue, 03 May 2005
---
About a year ago I began to consider remodeling the bathroom in the condo I'd recently purchased. One of the changes I wanted to make was to get rid of the no-name (at least as far as I could find) toilet installed when the condos were built in 1983. Whenever I contemplate making a change to the existing infrastructure, I like to thoroughly research my options. I was fortunate to find your website early on. Your review as well as the feedback from owners of various toilet brands and models was extremely helpful in making my final decision.
I'd read your review of the Toto Ultramax as well as Toto's information on their website and was impressed by the G-Max flush system, the 3-inch flush valve, and the 2 1/8-inch streamlined trapway. However, I was concerned as to how easy it would be to 1) find a Toto toilet, and 2) find replacement parts. For these reasons, I was considering a Kohler Santa Rosa as it's easy to pick up at the local Lowes or Home Depot. In researching the Santa Rosa, I found that people had mixed opinions about this toilet. In the end I made the decision that although it was an esthetically pleasing unit and easy to find Kohler parts, I didn't want to risk investing in a toilet that wasn't up to the job! I decided to search for a Toto in the Dallas area.
It turns out I didn't have to look far…Dallas Kitchens and Baths which handles Toto as well as Kohler is about two miles from my home- closer than Home Depot! I was impressed by their showroom – they had a wide variety of Toto models set up and functional! I was able to compare the UltraMax and the Drake toilets in action and the G-Max flushing system was truly amazing. I wish there were more showrooms set up with working units as it made all the difference in making a final decision.
I went with the elongated Toto UltraMax and have not had any regrets – though it cost more than the Kohler, it's been worth every penny and then some! It's amazing how thoroughly it does its job with so little water and so quietly. I was concerned that the elongated model might be a little large for my bathroom but the UltraMax has a fairly small footprint and projects out from the wall maybe one inch more than my old round-front unit – hardly noticeable unless you'd seen the old unit! Esthetically it's a beauty (I never thought I'd be so awed by the looks of a toilet!) and is very easy to keep clean due to the one-piece design. I had some initial concerns about the bowl wash as I had to flush twice to get a clean bowl. However after about a week of use I noticed the bowl was completely clean after one flush. As far as flushing action the UltraMax is outstanding – one flush and everything's gone! Even using so little water I haven't had any problems with plugging. Guess I can retire the plunger to the utility closet!
I recommend that anyone shopping for a new low-flow one-piece toilet put the Toto UltraMax at the top of their list!
J Bales Dallas, TX Sat, 2 Apr 2005
I just had a Toto Ultramax round installed last night attar reading all of these reviews and doing research on what made the best sense for me. Thanks for taking all the confusion out of this process. Seems like a great toilet so far! Thanks~ Jann S. Wed, 9 Mar 2005

Based on your suggestion as well as the reader comments on your site, we ended up buying 2 of the Toto Ultramax and 1 Drake (comfort height).
All work just great. Our neighbors bought the Am. Std. Champion and have reported some problems already.
R.North Thu, 31 Mar 2005

Inside the one-piece Toto tank. The Ultramax has a red flapper.
I was going to buy a Kohler or American Standard from Home Depot or Lowes. I didn't really like their selections so I searched the internet one more time and found your site. After reading your and others comments on the Toto Ultramax I decided to buy it. It installed very easily. I was concerned about how that little water tank was going to flush as well as everyone said but by golly, it does!
In short, I love my new toilet (I've never said that about a toilet before, by the way). It has tremendous flushing power twice as strong as my old toilet with less than half the water used?! Thanks for having this site, Terry. Oh. The only complaint about the Ultramax I have is the tank top is small and rounded so it's hard to stack stuff on the top......a small price to pay for such a great toilet. Did I mention that I loved this toilet? Steve 10/5/2004
We purchased a new house over here in Leesburg, VA and the standard issue Bemis toilets were not even able to consistently flush plain water. Your website was referenced in the Washington Post homes section, so we read your info and replaced two toilets with the Ultramax. They are great! Quiet, reliable, and unbeatable! We no longer need our plunger. I think our next one we buy will have the Sanagloss, since ours tends to leave a ring after a few days. Also, the small tank top is a little curved so you can't really put anything on top of it. Still, we recommend the Ultramax to anybody that has problems with their toilets...which is pretty much everybody in our neighborhood. Thanks for all of the info! Melissa G Wed, 24 Nov 2004
I suffered the nightmare of two American Standard low water toilets. They simply didn't work. Horrible in every way – nightmares. Probably stopped up every 8 uses or so and once clogged, impossible to clear without a plumber's snake. Three years ago I bought an Ultramax. Not a problem since. Strong flushing action. Good water level. Clean – no odors. No problems and that's way it's supposed to be. I will need to replace another toilet soon - in the downstairs half bath. I'll be buying another Ultramax.
Bill Gauthier Bill Gauthier Sun, 12 Dec 2004
Mr. Love:
i wanted to thank you for your terrific web site. to make a long story short, my husband and I traveled in the NW last year and everywhere we went, we found toto toilets. almost immediately upon returning, we faced replacement of a toilet in our house. a quick search on the web led to your site (coincidentally in the NW). based on your advice, we bought a toto ultramax and have since bought another. They are absolutely terrific. cannot even imagine going back! L McDade Philadelphia, PA Tue, 14 Dec 2004
Thanks Terry for your advice on this toilet, I never dreamed after 18 yrs of marriage I would get excited about a toilet. Everything you stated is true, it's quiet, elegant looking and totally functional. It is the plumber's trade secret, pass the word, J and L from Michigan. Wed, 15 Dec 2004
We bought this toilet and it looks great and flushes well but it stains quicker than any other toilet. While we were remodeling we used a really cheap ( around $50) American Standard and in another bathroom we have a Kohler. So all in all we have direct experience with three toilets from the lowest to one of the most expensive. The Kohler is over $1,000. We like the soft close of the Toto and the look but are tired of having to clean it much more often than the others. We don't like having greatly increased maintenance and were so surprised the cheapest one worked so well. E. Brown in Boulder Colorado Sun, 30 Jan 2005
After doing extensive toilet research (by far the best of which is on your web site!), we installed our Toto Ultramax Round toilet yesterday. Wow! What an impressive flush! I also love how quickly the tank refills (doesn't hurt that this changes things from a 3.5 gal to 1.6 gal fill up!). I only wish we had purchased an elongated bowl instead of the round. The soft close seat on the round seems to have a smaller opening that "regular" toilet seats. For our next toilet, I think we'll get the elongated ADA height either Ultramax or Drake. That MAP report really made for interesting reading! Thanks so much for having this informative site and forum! K from Poughkeepsie, NY
Mon, 28 Feb 2005