Caravelle one-piece toilet installation strength & stalbility?
Posted by snifferdog on January 18, 2004 at 23:12:40:
I just about installed a Toto UltraMax, when my Wife saw a Caroma demonstrated at tradeshow today. She was excited (for her) about the dual flush, and she liked the way the Caravelle one-piece toilet (naturally top of the line)looked, better than the Toto UltraMax. Luckily, the plumbing supply store that sold me the Toto, let me return it, but they said I would be sorry about buying the Caroma (he doesn't carry them), because I wouldn't be able to get parts.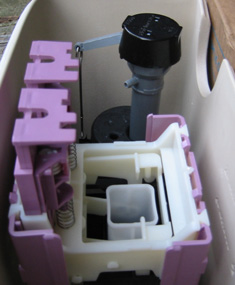 1. Will I be able to get parts for this toilet?
2. Is the inside dual flush mechanism really guaranteed for life, as the show salesperson said?
3. I am concerned about the installation, as they don't bolt the toilet to the flange. They rely on silicon caulk around the base to secure it. Although they do have two holes at the back of the toilet base to put in some bolts. But I have a porcelain tile floor - UGH! Will this installation technique be STRONG enough? Will I have to use the holes in the back and drill into my tile?
4. How does this compare in performance to the Toto UltraMax?