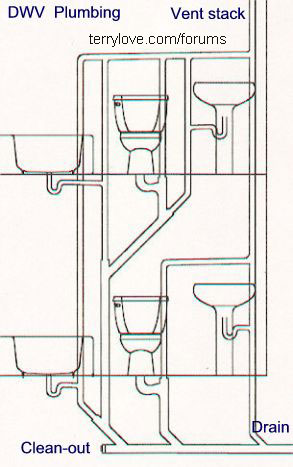 : First, from first impressions this looks like a great list. Thanks for all the good information.
: Now to the real questions.
: 1. I am installaling a new bathtub in new construction and need a good schematic for the plumbing. I am a novice but would like to try it on my own (good idea?)
: 2. The manufacturer of the American Standard Cadet Whirlpool bath states that you need a dedicated 15AMP circuit for the whirlpool and a separate dedicated 15 AMP circcuit for the whirlpool heater. Is this accurate?
Yes, you need a 15 amp circuit for the pump motor and one for the heater.
: 3. When positioning the drain for the bathtub how much pitch is required and what is the optimal size of PVC to use 1 1/2 or 2"?
The waste line will be 2" with a 1.5" trap arm graded at 2% (1/4" per foot).
: 4. Once again Novice question...between the studs do I need support i.e cross bracing for the new copper plumbing when I bring in the new supply lines?
I'm not sure what you mean here, but water lines should be supported in the normal matter.
: 5. All the documentation that I have read requires that the bathtub vent be according to local code. What is the normal and most prominent way to locate the vent? If the drain is tying into exsting drains can that share the same vent for the overall home?
The vent can tie back into other vents above the flood level of the fixtures. The vent will need to be within 42" of the trap.