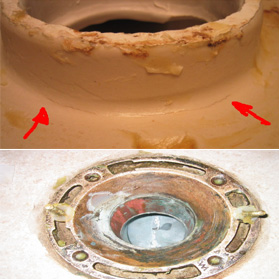 This is a picture of what I think might be causing a leak in my toilet. I am not positive if the crack goes all the way through though. Do you have any thoughts on it. It is a Kohler San Rafael low boy one piece 3.5 GPF
The other 2 pics are of the flange. From what I have read it appears to mounted correctly... level with, or slightly above the floor surface.
If I have to get a new toilet, I will, but I don't want to if my is fine.
I feel pretty confident that I seated the toilet correctly. My next thought is to get a thicker wax ring with the foam base?