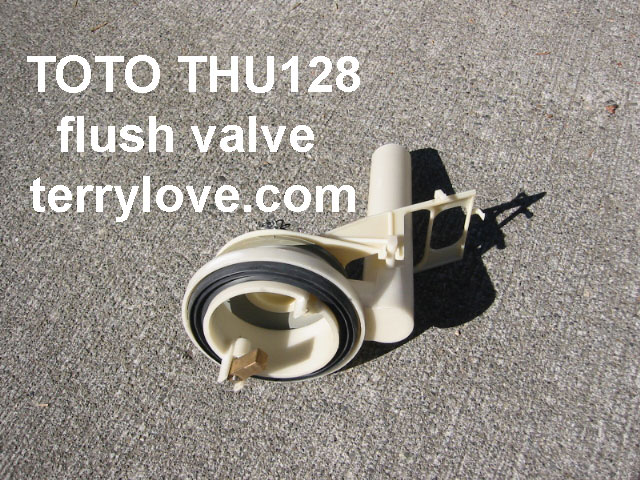 You will notice on the picture, the rubber seal and the brass clip.
Sometimes, the brass clips are too loose to seal.
Or, if you remove the flush valve, you can check to make sure the china has a smooth surface where the rubber seal touches.
I sell hundreds of these toilets a year.
I've found them to be one of the better brands in quality control.
They are however made by people like you and I.
It's not a perfect world.
The coffee is good though.
Terry Love
by the way, I sell bidet seats if you want the butt cleaned too.

: I purchased and installed a Toto Ultramax and it hasn't been right since getting it out of the box. I first noticed that the water level in the tank wasn't holding and steadily decreased. I put some dye in the tank which ended up in the toilet bowl after about 20 minutes. I called the store I bought it from and the guy told me it was the flapper, so he gave me a new flapper to try, after installing the new flapper the tank continues to lose water. I called him back and he has called Toto who is sending me all new parts for inside the tank. Shouldn't this toilet work right out of the box? Why should I have to replace the flapper on a new toilet? Why should I have to replace all of the parts inside the tank? Very frustrating, considering the money I paid for it. This thing should wipe your butt too.