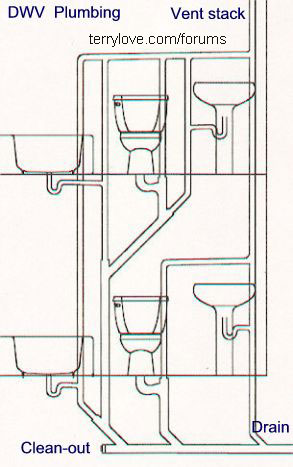 : I live in a 5 story condo and I am remodeling my kitchen. As I opened up the wall near the sink, I found that the drain pipe and vent to the roof were not connected, the clamps had let go years ago. I live on the top floor so the drain is a common drain.
: My question is, does the vent need to go to the roof?
Being that you are on the top floor then yes, it should continue on through to the roof.
How high above the sink does the vent need to be?
The horizontal section of the vent needs to be 6" above the "flood level" of the sink. Most of the time, this is 42"
Other than drain noise, will there be other problems if the connection to the roof is left open?
If the vent is left open, you will get to smell everyone's garbage and sewer gases from the rest of the condo.
Heck! You might as well count your neighbors across the street too. Everybody is tied together out in the street.
Can I change the diameter of the vent pipe in order to re-route the vent?
Not unless you want to affect everyone's drain performance.
There is a reason for everything we do in plumbing.