Re: 1 piece or 2 piece toilet
Posted by Terry Love on April 02, 2003 at 00:14:55:
In response to Re: 1 piece or 2 piece toilet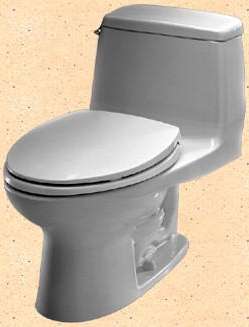 I prefer one piece myself. For most toilets, the parts are the same. Hasn't he heard of Toto?
: Please advise: I'm having a house built on the eastern
: shore of VA, near the ocean and chicken farms. A well and septic tank have been installed. I was told the water in this area may be harder then most. Would I be better off with a one piece toilet or 2. The plumbing supply man in the area, doesn't recommend 1 piece and said the parts are hard to come by if I need a repair. I prefer the look of a one piece, because they look easier to clean, but I don't want to run the risk of not being able to get parts. What's your advice. If I get a two piece, which kind is not as difficult to clean between the tank and bowl.
Replies to this post
There are none.