Re: "low-boy" commodes (toilets)
Posted by Terry Love on February 09, 2003 at 19:37:55:
In response to Re: "low-boy" commodes (toilets)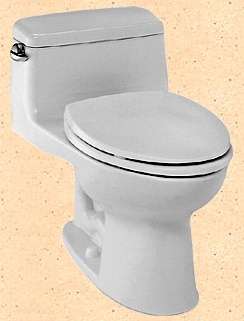 : Hi Terry
: Your web page and toilet ratings are excellent. But I have a special problem: I need to replace a toilet where the tank must be about 25" high or less. A Kohler Santa Rosa #3323-0 MIGHT do the job (26 3/4" high) but that may not allow enough space for repairs in the tank, if necessary. (There is a 9" deep shelf 31" above the floor over the tank.) Can your recommend a good-flushing, toilet hopefully for under $300, for this installation? Preferably elongated bowl but not required. FM, gravity or vacuum - just well-flushing! 1- or 2-piece.
: Many thanks for any advice/help you can give me.
: Bob Shirley (bobmimshir@aol.com)
: Muskegon,MI
Bob,
The Toto Supreme would do a fine job at 23.5 inches in height.
List price is higher than $400, but may be found discounted too.

Replies to this post
There are none.