Re: Totos - anyone used one in an old house?
Posted by M. Dearden on December 24, 2002 at 14:26:51:
In response to Re: Totos - anyone used one in an old house?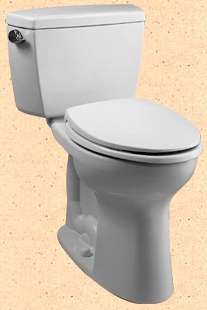 Hi,
I am a plumber out of Chicago Plumbers Local 130 and work out of a small family owned shop in the suburbs. We will install any toilet that the customer wants, they are paying the bill after all. But when I can I try to sell Toto. When I discovered Toto I brought home 2 for my own house and have very pleased with them.
One of the things that many people do'nt realize is that 1.6 gal. toilets do'nt carry the waste very far once the waste has cleared the bowl. This leaves the system dependant upon other fixture waste to finish the job often resulting in soft sewage blockages. The Toto flush carries the waste much further than most of the others, and certainly further than other gravity flush toilets. So clearing the toilet is just the begining for the tissue, it must clear the drainage system in the house then the sewer line to the main or septic system.
There is much more to this than has been explored here. There is a lot of money and headache to be saved by installing Toto.
M. Dearden


Replies to this post
There are none.