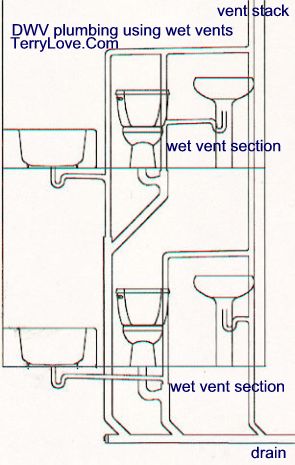 If you are wet venting the lav and the tub into the 3" pipe, it should be fine. Terry
: Terry,
: I have a bathroom with a shower/tub combo, toilet, and sink all on the same wall and I plan on replacing the drain and vent with ABS in my 45 year old house. The toilet is in the middle and the shower/tub drain is 30" from the toilet. The sink is 36" from the toilet. The vent stack behind the toilet is 3" in diameter. There is NO separate vents for the shower/tub or the sink.
: Do I need a separate vent for both the shower/tub and sink? Or is the 3" vent adequate?
: Thanks for your help.
: RJ
: Long Beach, CA