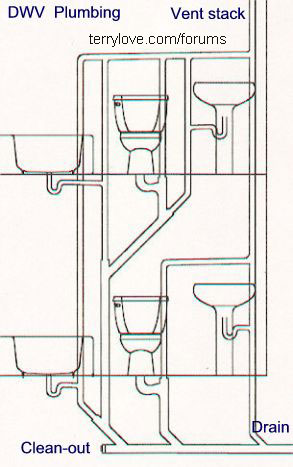 You are not allowed to drain the second story into the vent from below. Terry
: I have a 1st floor bathroom and planning to add two 2nd floor bathrooms above the 1st floor bath. The 1st floor vent is currently 3" and services a toilet, sink, and shower/tub on the 1st floor.
: Question: Can the 1st floor vent be used to drain the shower/tub, clothes washer, and floor drain located on the 2nd floor? These 2nd floor fixtures are closest to this vent.
: Also, I plan to use a separate drain/vent stack for back2back toilets, back2back sinks, 1 shower, and 1 whirlpool tub for two 2nd floor bathrooms located on another wall.
: Should I proceed or should I tie all 2nd floor fixtures to a 2nd stack.
: Thanks,
: RJ
: Long Beach, CA