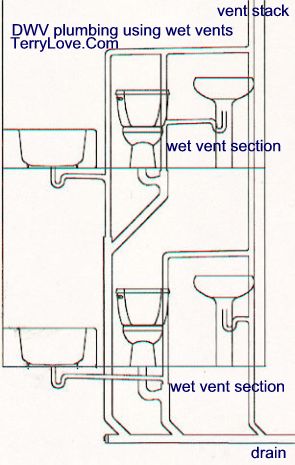 Paul,
Normaly, the shower would have a 2" drain with 2" trap arm, and the tub a 2" drain, with a 1.5 trap arm. Some codes like to see a 2" trap arm on large tubs. Each drain should have it's own vent. They can be tied in 6" above the flood level of the fixtures.
I'm in DC this week visiting my brother Jamie Love. I notice that his 1956 house is plumbed the way you mention. I've never seen things done that way in the other Washinton. He lives in Virgina, works in DC with Ralph Nader.
I got to see everyone there yesterday.
I showed the video production guys there the "How Low" video I have posted on the web.
Then we shop talked a bit on cameras and web streams.
: I am remodeling a 2nd story master bath and currently have access to all the plumbing from underneath. I need some advice on drain sizing here.
: The shower drain is a 1-1/2" cast iron unit, and the antique tub has 1-1/4" drain hardware. The old tub and shower drain lines were 1-1/2" teeing into the main 4" waste line prior to going into the slab.
: I was planning on using 1-1/2" traps on the tub and shower. They come together in a 1-1/2" Y prior to entering the 4" waste line. There is a single 1-1/2" vent between the shower and tub. Are 1-1/2" trap and drains OK? It would probably be tough to get 2" to fit in the floor truss area where the plumbing is located.
: Thanks for your help.