Re: american standard cadet toilet leaking
Posted by Terry Love on October 29, 2002 at 20:55:37:
In response to Re: american standard cadet toilet leaking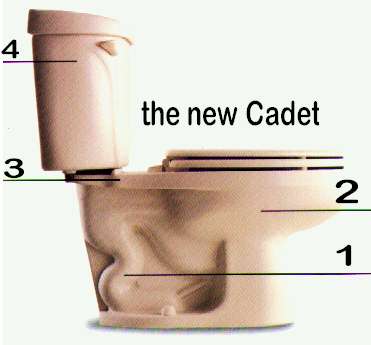 : I recently installed an american standard cadet toilet and noticed that water was leaking around the base of the toilet. I replaced the wax ring and the toilet still leaked. I discovered that the water was actually coming from the back of the bowl out of a small manufacturing hole in the porcelain. I called american standard and they told me the hole was there so the toilet wouldn't break when it was fired as part of the manufacturing process. She also told me that all of the cadet toilets had the hole and that sometimes they leak and sometimes they don't. She then said I could return it or fill the hole with waterproof sealant. Has anyone heard of this before?
Jeff,
Yes, I've heard and seen it.
I had one with the casting hole, it didn't leak.
It was installed in my home for a while.
We have had other posts on the board with the same question though.
I imagine a bit of Silicone sealant would cure it. It's not in a pressure location, it's not a crack, but a cast hole. It should work.