Re: Venting For A Basement Bath
Posted by Terry Love on October 17, 2002 at 11:17:31:
In response to Re: Venting For A Basement Bath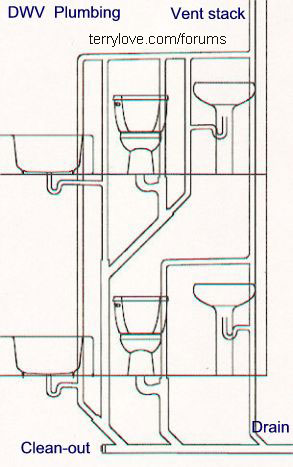 : I am installing a sewage ejection system (upflush unit) in my basement that will handle a shower, toilet and sink and I'm not sure of the easiest way to vent. There is a 4" sewer line right above the ejector system which is handling the bath from upstairs which vents which is downstream of where I would tie in. Can I tie in here? There is also a 4" clean-out at the bottom of a y-type yoke coming from upstairs. That clean-out is about 4 feet from the basement floor and goes out the wall. Can I use a Stodur vent?
The vent needs to be tied in above the 6" flood level of the plumbing fixtures.
That means, unless there is already plumbing in the basement, you will need to tie in 6" above the upstairs fixtures. Terry
Replies to this post
There are none.