Re: Best low flush toilets
Posted by Terry Love on September 18, 2002 at 13:44:12:
In response to Re: Best low flush toilets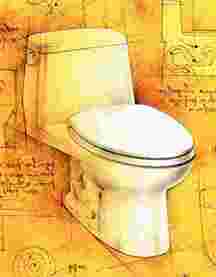 : We're building a house and need to buy several low flow toilets. How do the Briggs Vacuity 4200, American Standard Cadet, Kohler Wellworth and Toto Carlyle compare as to effectiveness? There are conflicting reports. Thank you.
You will find the correct information on my report. This report uses "in-house" testing.
Based on reports from homeowners and plumbers, this "is" the real deal.
I remove Kohler Wellworth and Vacuity toilets often. Homeowners prefer what I have listed.
A test using plastic balls that float on top of the water is not "real-world".
The men in the blue coats should have taken the toilets home and let the wives tell them how it really is.


Replies to this post
There are none.