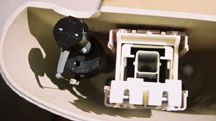 : We are building a house which will have a private well. Knowing that the water pressure will vary more than in a city system, will the Caravelle function properly at 20 Psi pressure? Also, how tolerant is the Caravelle of small grains of sand?
: We will have to use holding tanks, as the property does not perk and really like the dual flush option of these Aussie toilets.
Jonas,
Most well systems work at 30 plus pounds.
20 PSI would be the low end that I would expect these to work at. They use the Fluidmaster fill valve. It should work fine on a well system.