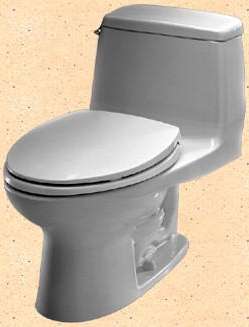 If you install "high performance" 1.6's, your worries will be over.
The 1.6 toilets you have are "not doing" the job. Terry
: We just moved in a few months ago. The house is in good shape, built in 56. but,we use the plunger on our two Titon 1.6's about 2-3 times per week. Embarrassing when the in-laws come over and even her grand-ma's gotta use a plunger. So I'm researching what to do next, replace the toilet, check out the drains, etc.
: 1) Labor charges: how much should I expect to pay for a decent plumber (Atlanta, if that matters....) to inspect the problem
: 2) Most of the plumbing is new, to the main drain that runs under the house, which is a huge ugly pipe. The HVAC guy that checked out my furnace in the crawl space said something along the lines of "don't see much of that plumbing anymore" and he gets under houses a lot more than I do teaching high school...
: anyway, I search the internet and read that a lot of times the low flows clog because they can't supply pressure to the old big ugly pipes (1' in diameter, or bigger?). So is that the likely suspect, and how much if I had to replace that (about 50' to the city main?)
: or should i just get some pressure assisted toilet and i'll be fine, and grandma can flush with ease (or should i be asking my wife what she's been feeding g'ma?)
: john martin