Re: toilets.which toilets?
Posted by Terry Love on August 08, 2002 at 18:08:09:
In response to Re: toilets.which toilets?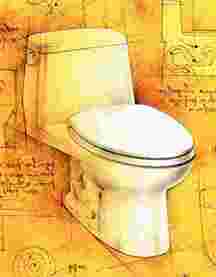 Cary,
I have the Toto with G-Max top rated.
I sell both, and many other types too.
I get the best customer satisfaction with the G-Max toilets.
That's not to say, that there are those that would choose one of the others first, it's just that they seem to be in the minority.
If you're looking for slightly better bowl wash, something with the Flushmate.
For an all-around good flushing toilet that's unobtrusive, then the G-Max.
Terry
: Toto Gmax ultramax or a Gerber ultraflush. What is your preference and why? I've heard good things about both. Some people have described the Toto model as having a good flush, but not cleaning out the bowl, because of the way the way the water moves in the bowl. I would appreciate your comments.
Replies to this post
There are none.