Re: regurge in lowest flat
Posted by Terry Love on July 31, 2002 at 11:47:04:
In response to Re: regurge in lowest flat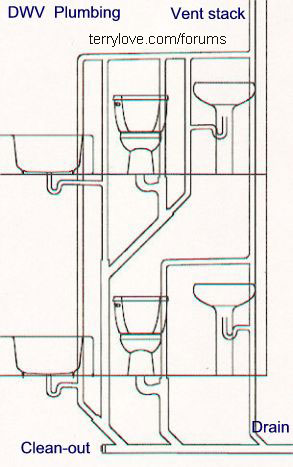 Hopefully, the plumber "vented" the upstairs tub drain like in the picture above. If not, it would create the problem you mention. Terry
: I fitted a replaced a tub in our flat , where it was previously unused. We are three floors up and since then my lowest neighbour finds some regurge.
: Plumber told me that the waste stack was quite clogged and he told me that the only real way to prevent the regurge below was not to open the pop-up waste fully and let the tub water drain more slowly - otherwise a whole new waste stack would be needed by everyone eventually.
: Is this true - or does anyone have any further thoughts.
: Would it be worth lower neighbours fitting a anti-regurge valve or are they dangerous?
: Cheers,
: Keith, MA
Replies to this post
There are none.